"Fab Degree Partnership Program"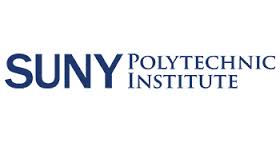 Program Leverages SUNY Poly's Academic Excellence and Cutting-Edge Resources to Support Workforce Training as Part of GlobalFoundries' 'Fab Degree Partnership Program'
Albany, NY – SUNY Polytechnic Institute (SUNY Poly), in partnership with GlobalFoundries, has announced that it has developed a number of undergraduate and graduate educational programs that provide a hands-on, targeted workforce development experience for employees of GlobalFoundries through their Fab Degree Partnership Program (FDPP). The program, based at SUNY Poly's Albany campus, not only offers a cutting-edge education to enhance employees' advanced skills, but was also developed with consideration for employee schedules and with flexible billing to facilitate participation.
"SUNY Poly is thrilled to engage with GlobalFoundries and support its workforce through the Fab Degree Partnership Program, which provides a critical pathway for employees to pursue the in-demand knowledge and skills they need to advance their careers," said Dr. Grace Wang, Interim President of SUNY Poly. "We are excited to provide a number of options, including flexible billing and convenient course options to further support a strong innovation-centered workforce and ecosystem in New York State."
"Developing our technical leaders is not only critical to our continuing innovation, it enriches our broader workforce," said Ron Sampson, SVP & GM US Operations, GlobalFoundries. "We have a great relationship with SUNY Poly, and their participation in our Fab Degree Partnership Program brings a wealth of educational resources and content to our team, allowing our employees to grow and develop."
Under this partnership, SUNY Poly offers undergraduate and graduate degree programs, certificate programs, and short courses to provide a targeted educational pathway for GlobalFoundries' advanced workforce. These opportunities include the chance to develop new managers, engineers, and technicians by strengthening technical skills and soft skills as well as exploring development opportunities for seasoned managers through high-tech focused curricula.
"We are delighted to work with GlobalFoundries as we enhance their employee development opportunities and engage staff in their Northeast locations," said Krista Thompson, Assistant Dean of Graduate Studies.
To help ensure that every interested GlobalFoundries staff member is able to take part in the program, SUNY Poly also offers flexible tuition billing terms in concert with GlobalFoundries' tuition reimbursement program. In addition, class schedules are based around GlobalFoundries' employees' schedules and needs.
This collaboration follows previously announced opportunities for professionals who work for companies within the region's growing high-tech ecosystem to expand their knowledge, learn new skills, and advance their careers in the semiconductor industry, such as the option to enroll in SUNY Poly's Master of Science in Advanced Technology program at its Albany campus. Announced in June 2018and focusing on the enabling technologies for semiconductor processing and nanomanufacturing, the program uses an applied learning approach on topics that include cutting-edge patterning, fabrication, metrology, and device characterization methods for current and next-generation high-volume nanoelectronics manufacturing and offers convenient evening and online courses. For more information about this program, please visit:https://sunypoly.edu/academics/majors-and-programs/ms-advanced-technology.html.